Maxim M255 PE
Outdoor Wood Pellet Furnace
The Maxim M255 PE is EPA Step 2 Certified.
Overall Efficiency (LHV) - 96.2%*
Overall Efficiency (HHV) - 89.2%*

Manufacturer's Rated Heat Output Capacity** - 190,000 Btu/hr
Door - 15.5"W x 13.5"H
Weight - 1,310 lbs
Supply/Return Ports - 1 set of 1-1/4" supply and return ports, 1 set of 3/4" supply and return ports
Water Capacity - 90 gal.
Hopper Capacity - 11 Bushel (600 lbs)
Included with outdoor furnace - Water Test Kit, Cleaning Rod, Flue Brush Kit, Ground Rod Kit, Ash Scoop, Rain Cap and two 4-foot chimney sections

* Efficiencies are determined under the same test conditions using higher heating value, lower heating value and overall efficiency. **Based on EPA qualifying test.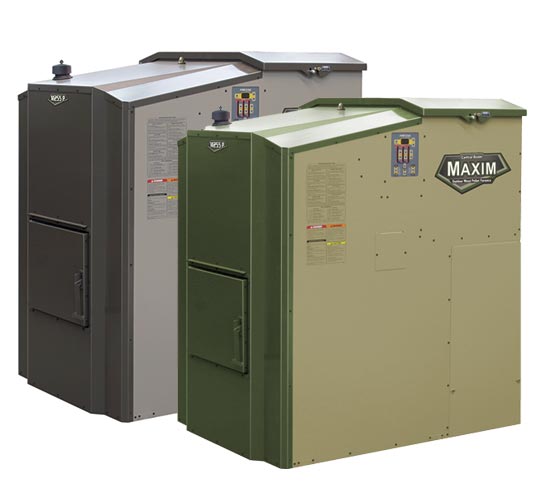 Color Options
Terra Brown / Taupe

Green / Olive Gray